Top pick Burdi White Sox closer of future?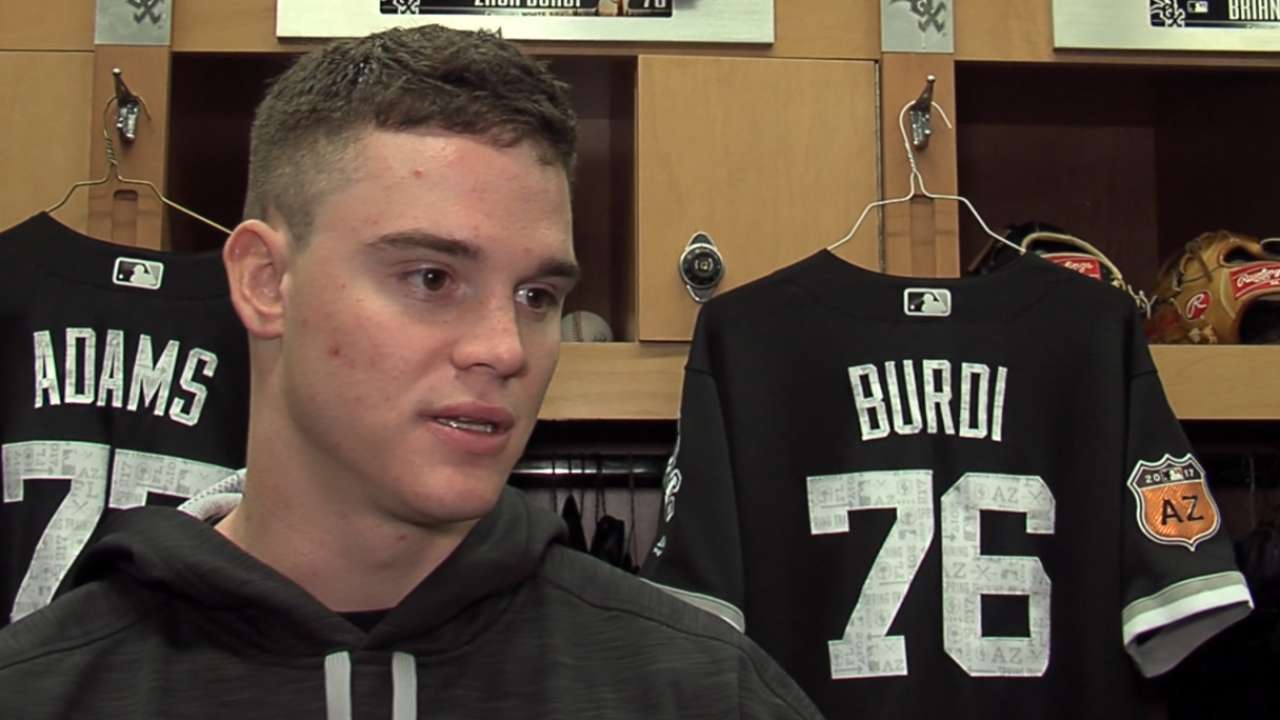 GLENDALE, Ariz. -- With a fastball reaching 100 mph and slightly beyond, a pretty good slider and a feel for the changeup, there are some who believe Zack Burdi and his three pitches eventually could become a starter for the White Sox.
Burdi is willing to do whatever is asked of him. But the right-hander truly seems born to be a closer.
"I was meant to be in the bullpen in this game. My attitude and the way I approach the day-to-day activities in the game all resonate with the bullpen and being a reliever," Burdi said. "My attitude is moreso like a football attitude.
• Spring: Tickets | Ballpark | 40-man roster | NRIs
"Everything is to play day to day like a reliever. If they wanted me to be a starter, I could find what works for me, my five-day rotation. But I just love the prep and the rehab and just getting your body ready to be ready a day after you throw."
The 26th selection overall in the 2016 Draft already has been dubbed as the White Sox closer of the future. He's being talked about as the first player from this high-end youthful core to potentially reach the Majors in '17.
Remember, though, this Spring Training marks Burdi's first big league camp. He made 26 appearances and fanned 51 over 38 innings during stops last season with the Arizona Rookie League team, Class A Advanced Winston-Salem, Double-A Birmingham and Triple-A Charlotte. If the White Sox had been in contention, Burdi might have received the ultimate promotion a few months after his Draft selection. But he certainly doesn't think about the future closer description at this point.
"When people say stuff like that, it's cool," Burdi said. "It's something that I'm lucky that people say that about me, but it really doesn't affect my day-to-day approach to the game."
"We view him as an elite reliever, but he has back-end-of-the-bullpen type of stuff," White Sox director of player development Chris Getz said. "Does that mean that's where he starts? Is he going to go right as a closer? Not necessarily, but he has the potential to become a closer."
A natural battle easily could exist between Zack and Nick Burdi, aside from the sibling rivalry variety for the natives of west suburban Downers Grove, Ill. Nick pitches for the Twins organization, ranked as the No. 10 prospect per MLBPipeline.com. Zack rates No. 8 overall for the White Sox.
But during this past offseason, the Burdis worked together with other professional players at their Louisville alma mater. The future American League Central dividing lines were thrown aside, if they ever were there at all.
"Our big thing in the offseason is trying to outwork one another," said Zack, 21. Nick, 24, was selected in the second round of the 2014 Draft. "We both know that we work pretty hard and if we are outworking each other, there's a good chance we are outworking a lot of people.
"That's about it. That's as far as it goes. We aren't really concerned about the future. More concerned about where we are at right now and being as good as we can."
Scott Merkin has covered the White Sox for MLB.com since 2003. Read his blog, Merk's Works, follow him on Twitter @scottmerkin, on Facebook and listen to his podcast. This story was not subject to the approval of Major League Baseball or its clubs.