Shields confident he'll bounce back in 2017
Right-hander struggled after being traded to White Sox last June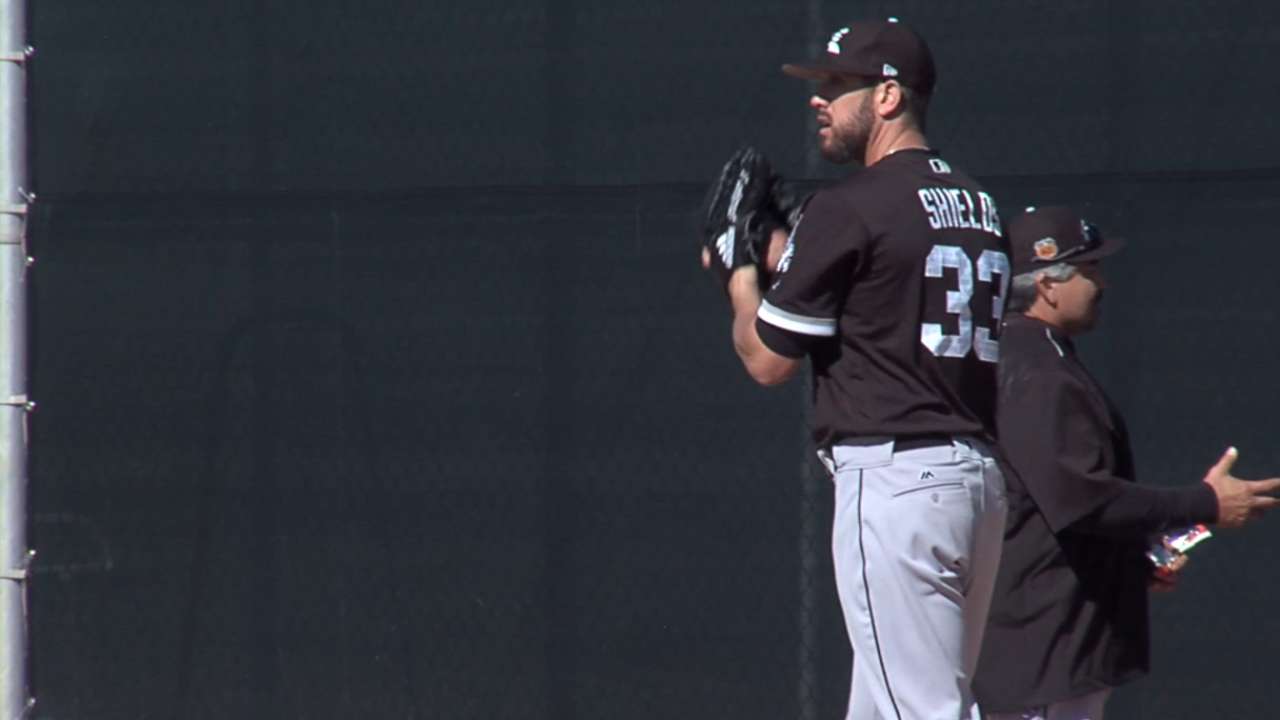 GLENDALE, Ariz. -- After 11 years in the Majors and 2,294 1/3 innings pitched, along with a .534 winning percentage, 3.91 ERA, 23 complete games and 1,977 strikeouts, James Shields believes his career numbers speak volumes.
"I have nothing to prove. Nothing to prove," Shields said on Thursday at Camelback Ranch. "I think my career speaks for itself."
Nothing to prove, aside from wanting to show how much better he can be than the 22-start struggle that the right-hander endured with the South Siders after being traded from San Diego last season. Shields led White Sox pitchers with 31 home runs allowed in 114 1/3 innings.
• White Sox Spring Training: Schedule | Information
Shields yielded 139 hits and walked 55 after the trade, and his ERA was 6.77. He certainly wanted to pitch better and remains an intense competitor at 35 years old. He does know how to come back from a bad season, though. He posted a 5.18 ERA with the Rays in 2010, only to produce a 2.82 ERA in '11. Of course that turnaround happened 1,067 1/3 innings and 167 starts ago.
"That's not the first time I've had a rough season," Shields said. "I've been in the game a long time, and I know how to combat that. I worked real hard in the offseason, worked on some things in the gym, and I'm ready to go.
"Sometimes those things happen, but unfortunately it happened too often. But this season I'm feeling good. I've got a lot of confidence right now in my ability and what I did this offseason, and I'm going to carry it on."
White Sox pitching coach Don Cooper and Shields agree that the right-hander tried a little too hard out of the gates with the White Sox, pushing to be that missing rotation piece needed for playoff contention. His altered mental state eventually caused too many physical mistakes on the mound.
"I'm not really worried about last season," Shields said. "Just putting that in the back of my mind and moving forward."
"We need to see more of the good ones and kick out some of the lemons he had," Cooper said. "I'm hoping last year was an aberration. He still has everything he needs stuff-wise to get people out. He has movement. He has a great changeup. He commands that fastball. We're hoping for a whole lot better for sure. And I'm sure he is, too."
Scott Merkin has covered the White Sox for MLB.com since 2003. Read his blog, Merk's Works, follow him on Twitter @scottmerkin, on Facebook and listen to his podcast. This story was not subject to the approval of Major League Baseball or its clubs.