Sale accomplishes mission in possible last start
White Sox ace matches career high for wins, innings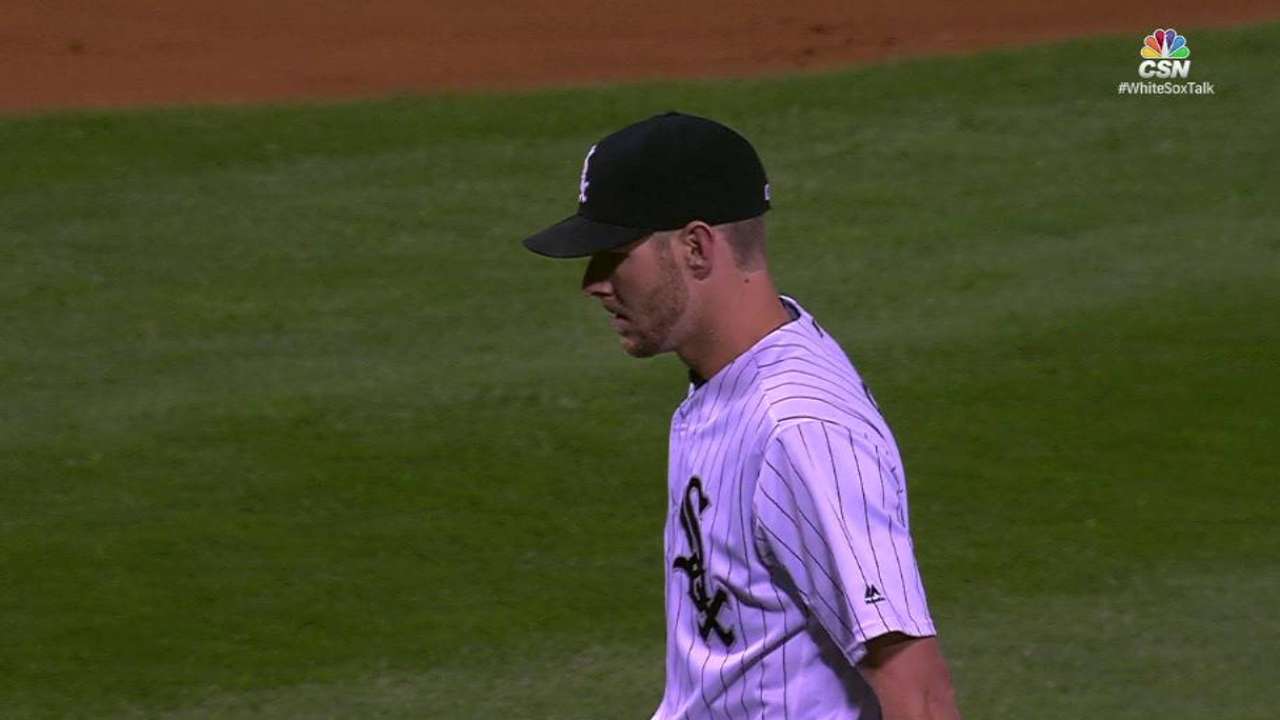 CHICAGO -- If Chris Sale's final 2017 start came Tuesday night at U.S. Cellular Field, then the American League Cy Young candidate went out in style during a 13-6 victory over the Rays.
Sale matched a single-season career-high with victory No. 17, allowing three runs on eight hits over seven innings, while striking out seven and not issuing a walk. He increased his single-season best for innings pitched to 221 2/3, and in a season where Sale wasn't trying to go all-out with every pitch and wasn't worried about strikeouts, he still posted the second highest number of strikeouts in his career at 227.
This special K Zone speaks to Sale's immense talent as much as anything else.
"That's not for me to talk about," said Sale, who has walked 44. "We went into this year knowing what we were going to get ourselves into. Just trying to do something better for the long haul and looking back, I got burned a couple of times.
"Just like anybody, though. It's not to say I wouldn't have done the same thing in previous years. So, you just make some adjustments and go forward."
When asked if this was the best he had felt 31 starts into the season, Sale didn't hesitate with a resounding "no doubt, 100 percent."
"I feel as good now as I ever have on a baseball field, physically," Sale said. "This year was the best overall in terms of feeling strong at the end and still having more in the tank."
The option to start Sunday's season finale exists for Sale, but White Sox manager Robin Ventura said that decision would not be made Tuesday and Sale completely deferred to the coaching staff. With the White Sox potentially headed toward a rebuild, this potentially could have been Sale's last start as part of the team, with his huge ability and team-friendly deal making him a prime trade target.
It's not something Sale gave any thought to during his 102 pitches Tuesday night. In fact, Sale reiterated in no uncertain terms a desire to stay with the only organization he has ever known.
"I can't say this from experience, but I don't think there's probably a better feeling than winning with the team that drafted you and staying with the team that drafted you," Sale said. "Talking with Paulie [Konerko] a little bit in his final year, he definitely had some very good things to say about staying with one team and being here from start to finish.
"But this is baseball, this is sports. You can't always choose and pick what you want to do or where you want to be. So whether I'm here, there or anywhere -- a little Dr. Seuss for you -- I'll be there."
Unfortunately, the plan put together by Sale and pitching coach Don Cooper didn't have him working for anything but individual accolades down the stretch. It was a mission accomplished, though, when thinking back to the goals set in the offseason.
"He's learned how to stay in the game longer, conserve pitches, and let defense work for you," Ventura said. "That's something that's going to help him in the long run, is be able to just go out there and eat up innings."
Scott Merkin has covered the White Sox for MLB.com since 2003. Read his blog, Merk's Works, follow him on Twitter @scottmerkin, on Facebook and listen to his podcast. This story was not subject to the approval of Major League Baseball or its clubs.