Tilson sustains season-ending injury in debut
Newly acquired outfielder to undergo surgery on torn hamstring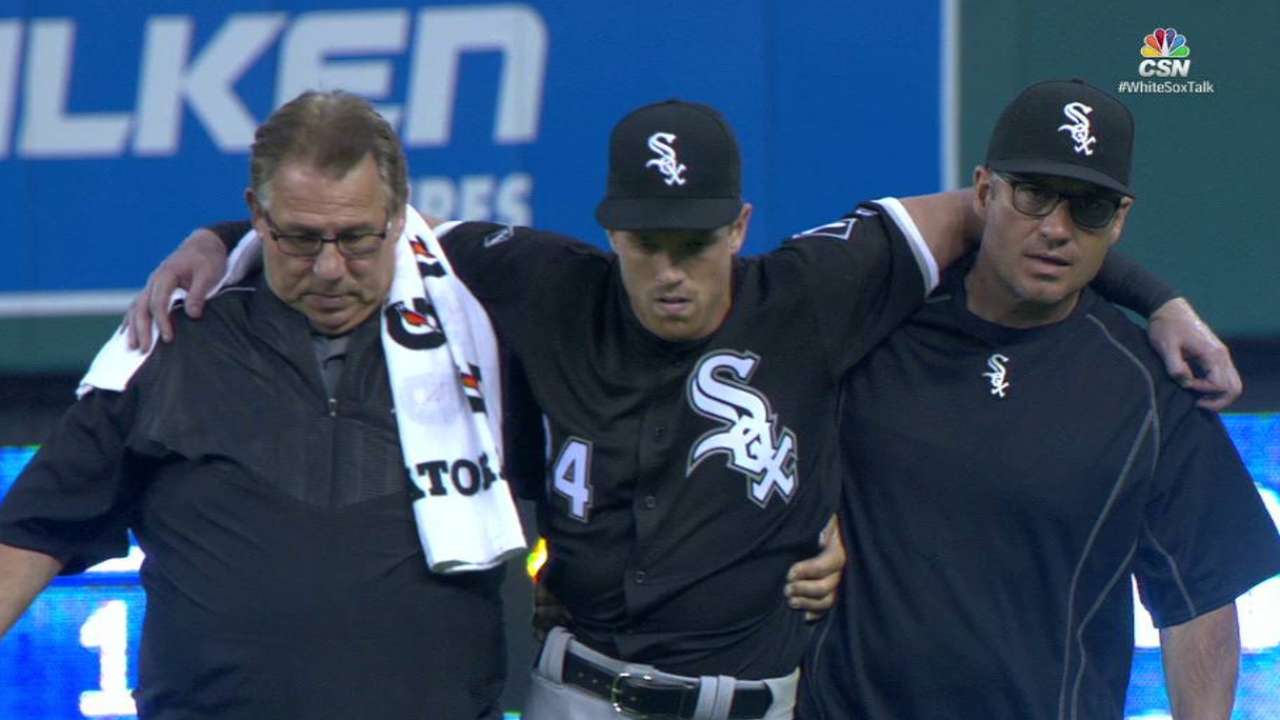 DETROIT -- Charlie Tilson began his Major League career with a third-inning single on Tuesday at Comerica Park. His debut was short-lived, however, because he tore his left hamstring chasing down a fly ball in right-center field in the fifth inning of an 11-5 loss.
The White Sox initially announced after the game Tuesday that Tilson had strained his hamstring, but manager Robin Ventura said Wednesday that Tilson had an MRI that revealed a tear, and it will require surgery. Tilson is scheduled to have surgery Thursday and is expected to miss the rest of the season.
Outfielder J.B. Shuck replaces Tilson on the active roster. Shuck was recalled from Triple-A Charlotte just two days after being optioned by the White Sox.
Tilson rolled his ankle while chasing the ball down, which sent him to the ground. Initially, it appeared that his injury could be ankle or knee-related, but Ventura said he is not sure of the extent of the injury.
"I just know it's enough for them to go in there first," Ventura said, referring to the hamstring tear. "I don't think it has anything to do with the knee, but I'm not the one looking at the MRI or any of the X-rays."
Ventura said he is not sure whether participating in Spring Training in 2017 is a possibility for Tilson, who had just been traded to the White Sox from the Cardinals' Minor League system on Sunday in exchange for left-handed reliever Zach Duke.
Adam Eaton started in right field Tuesday and fielded the ball that got past Tilson in the fifth inning. Eaton said on Wednesday he could tell right away that Tilson was white in the face and was in shock after what happened.
"Tough go at it for him, that's not how you picture your debut to go," Eaton said. "But in the same token, he left us with a good impression. I thought he ran really well and got the hit there in his first at-bat. Hopefully he can heal up and be ready for Spring Training."
Tilson became the fourth White Sox player to sustain an injury during his Major League debut this season. Kevan Smith hurt his back during pregame stretches in April. Matt Davidson broke his foot in his debut on June 30, and Jason Coats left his debut, also in Detroit, in early June after colliding with Shuck.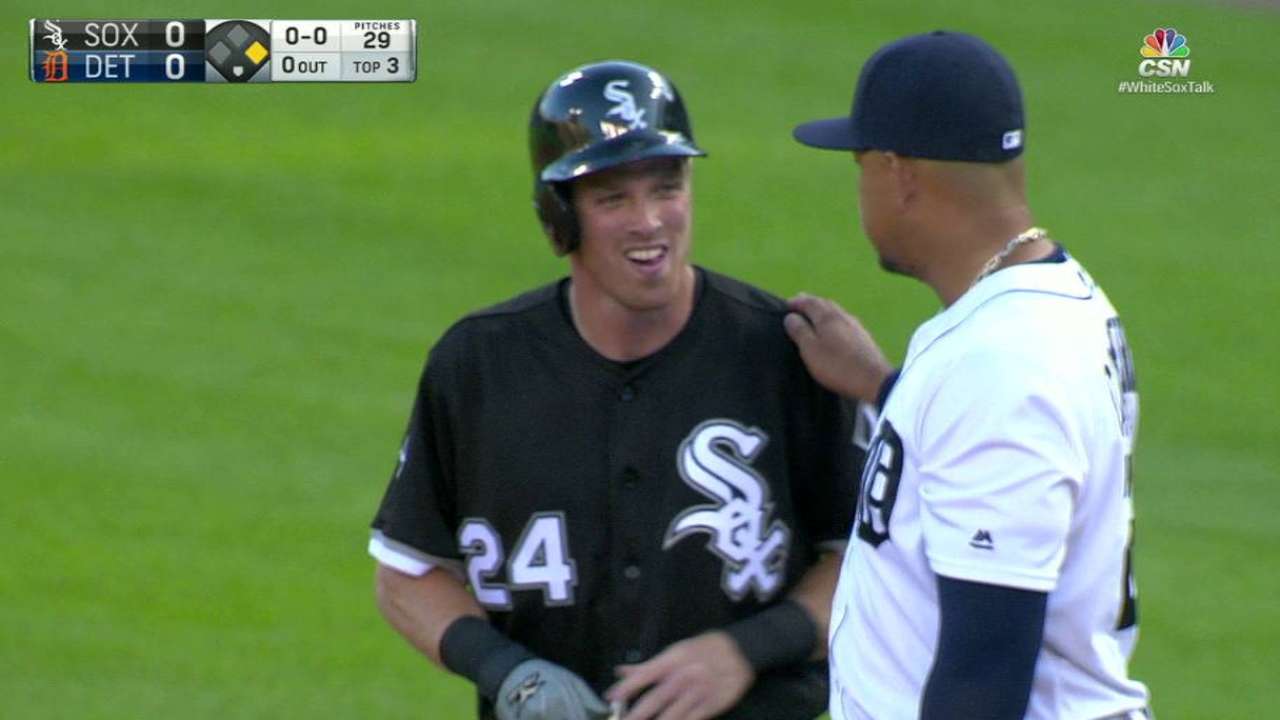 Tilson is a native of Wilmette, Ill., a suburb of Chicago. He grew up a White Sox fan and was thrilled to be making his debut with his favorite team, he said Tuesday.
"Something you think about your entire life," Tilson said before Tuesday's game. "And to be able to come back home and play for the team that you rooted for growing up, it's just one of those things that I feel so fortunate."
Worth noting
Shuck was 3-for-39 over his last 11 games before being optioned to Charlotte. He was hitting .143 since the All-Star break.
Shuck will likely share time in right field with Avisail Garcia, while Eaton moves over to center field in Tilson's absence. Eaton said he has adjusted pretty well to center field this year, but thought he did better in right field last season.
"I don't feel like I played very good center field last year, under some circumstances," Eaton said. "I think in right field, there's just a simplicity over there that's a lot different than in center. There's a lot more layers to center field, but it's like riding a bike. I'll be back out there and enjoying it, too. There's a freedom to being out there as well. There's a lot of room to run and being in charge for two guys, that responsibility is great."
Kyle Beery is a reporter for MLB.com based in Detroit. This story was not subject to the approval of Major League Baseball or its clubs.