Milestones, trades among White Sox top moments of 2015
Sale sets franchise K mark; deals transform roster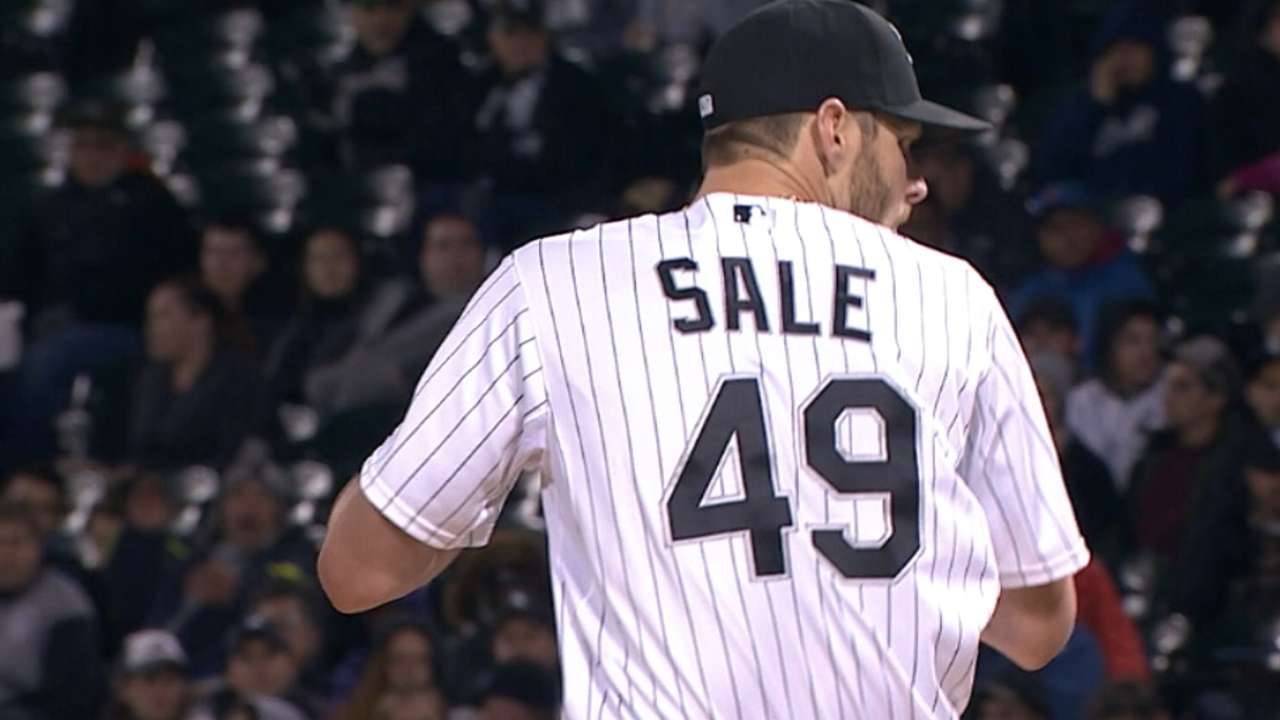 CHICAGO -- To be perfectly honest, general manager Rick Hahn and manager Robin Ventura envisioned a list of 2015 highlights featuring playoff victories.
Key moves had been made in the hopes of moving into postseason contention, even though the previous two squads had won 63 and 73 games. But the team had to settle for far fewer great moments than expected, with the group struggling offensively and defensively for much of the inconsistent season.
"Last year was a fun group of guys. We were always hanging out, playing pingpong, whatever it was. But we just needed to put it together collectively," said White Sox ace Chris Sale of the uneven '15 effort. "It was one night this, one night that. It just never seemed like we put it all together for a long period of time.
"We went through spurts where we did and it was awesome, but in this game, consistency is the key. That ultimately kind of ended up biting us."
One of those runs of consistency came from July 23-29, when the team won seven straight on the road. The overall disappointment, though, was not without some memorable moments and was not without building some hope for '16.
5. Hahn does it again
The reshaping program undertaken by Hahn, which began during the '13 season, accelerated last offseason when he added Jeff Samardzija via trade, and David Robertson, Melky Cabrera and Zach Duke via free agency. Those moves helped the White Sox net an increase of just three victories, but it didn't deter Hahn from going back after it during this current offseason.
Hahn targeted upgrades on offense during the past few months, focusing on catcher, second base and third base, in particular. The additions of Alex Avila and Dioner Navarro, Brett Lawrie and Todd Frazier have once again pushed the fan base to visions of tempered grandeur.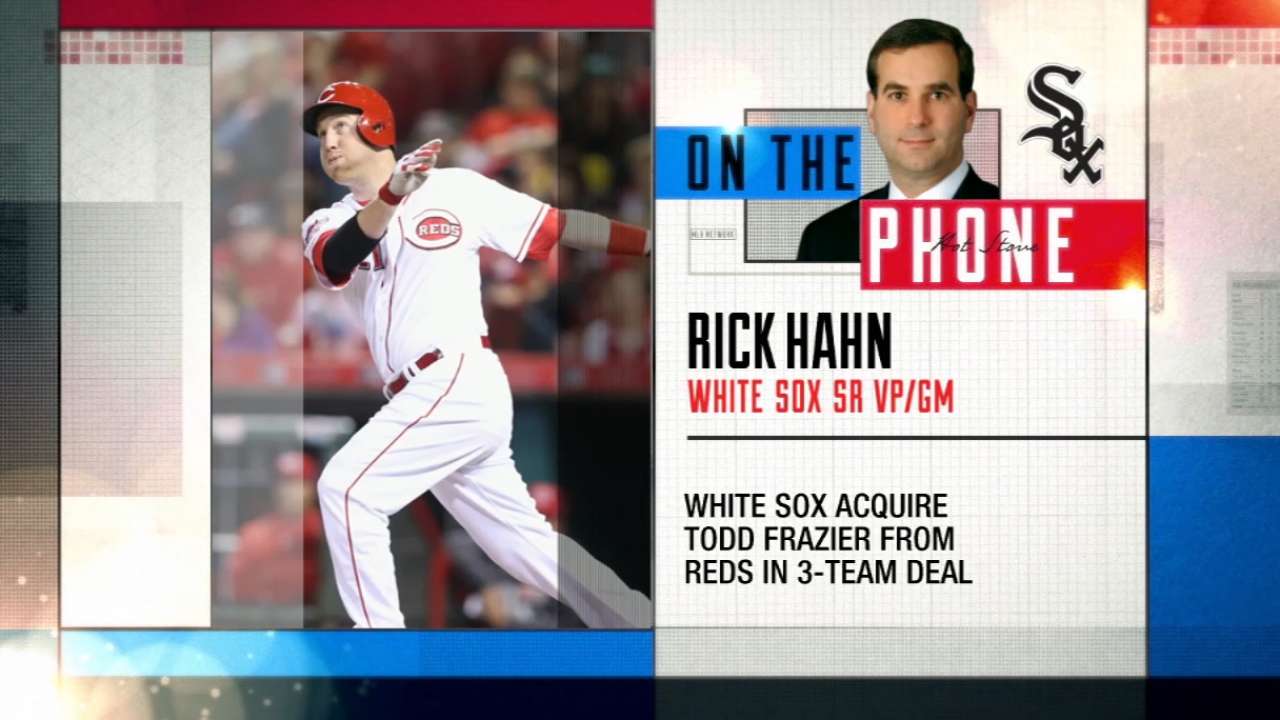 "He's been very diligent about making phone calls and seeing what works for us," said Ventura of Hahn. "And there is a plan.
"He has ideas of how he's going to go about it. The work that goes into it, you make a lot of phone calls and have conversations. The targets are everything we've been discussing, and you work hard to be able to do that."
And as the end of the year approached, Hahn was not finished. He didn't rule out big-ticket free agents such as Alex Gordon, Justin Upton or Yoenis Cespedes, albeit with some creative contracts required, or any other move to help give his team an edge.
4. Rodon arrives
There was talk in 2014 that Carlos Rodon would make big league appearances in September of the same year that he was selected third overall in the MLB Draft. But the left-handed hurler logged 34 2/3 Minor League innings before making it to the Majors in '15.
Rodon, 23, had an up-and-down early run through his first 17 games and 14 starts. But he posted a 2-1 record with a 2.48 ERA in August and a 3-1 record with a 2.03 ERA in September and October.
3. Abreu's special sophomore season
There was no second-year slump for Jose Abreu, who finished with 30 homers, 101 RBIs, a .290 average and an .850 OPS. Abreu joined Albert Pujols as the only players to record at least 30 homers and 100 RBIs in each of his first two seasons.
But those exceptional on-field accomplishments took a back seat to Abreu taking part in Major League Baseball's goodwill tour of Cuba in December, marking Abreu's first return since leaving his homeland and coming to play in the United States. Abreu got to visit with his young son, Dariel, whom he had talked to but not seen in person since leaving.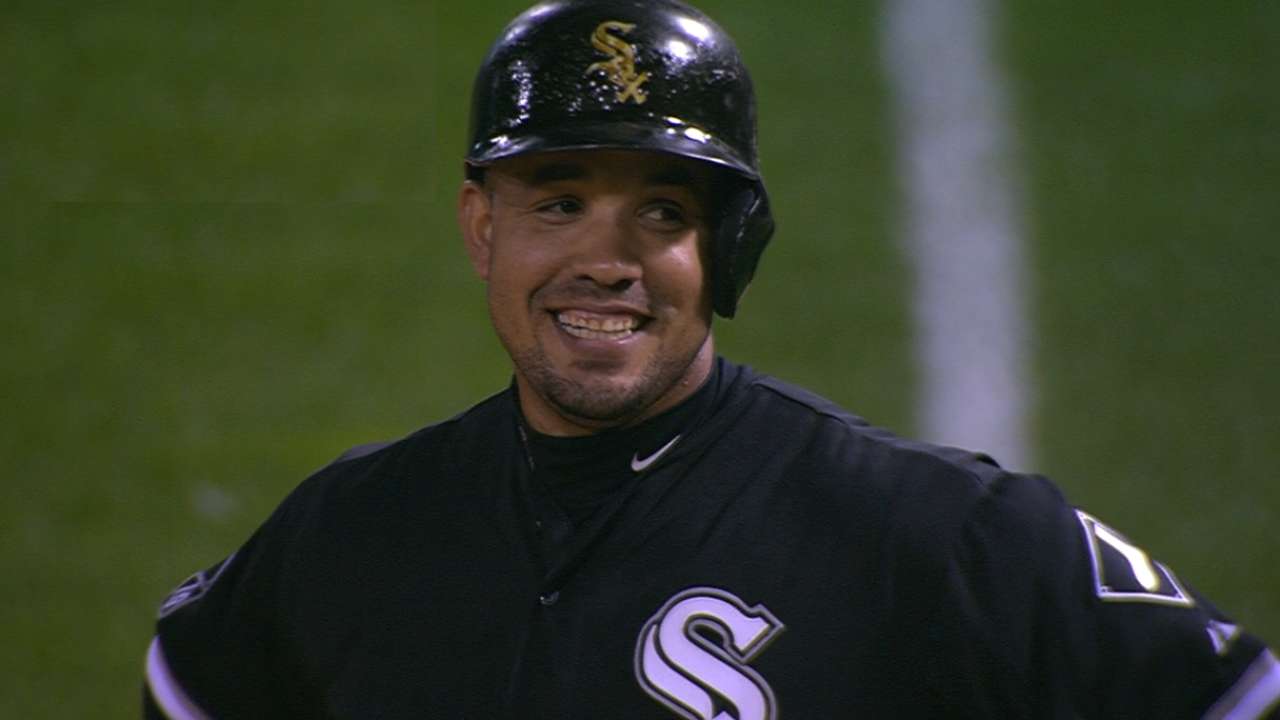 2. No. 14 moves into permanent retirement
Paul Konerko walked in from center field prior to a game against the Twins on May 23, moving quickly to the area where he walked off the field for the final time as a player at the end of the 2014 season. This time, his No. 14 joined Nellie Fox (2), Harold Baines (3), Luke Appling (4), Minnie Minoso (9), Luis Aparicio (11), Ted Lyons (16), Billy Pierce (19), Carlton Fisk (72) and Jackie Robinson (42) as those never to be worn again in White Sox history.
Konerko, the captain who played 16 of his 18 seasons with the White Sox, gave a speech befitting of his humble nature. He closed with six simple words to thank the 38,714 in attendance and White Sox fans across the country.
"Thank you, thank you, thank you," Konerko said.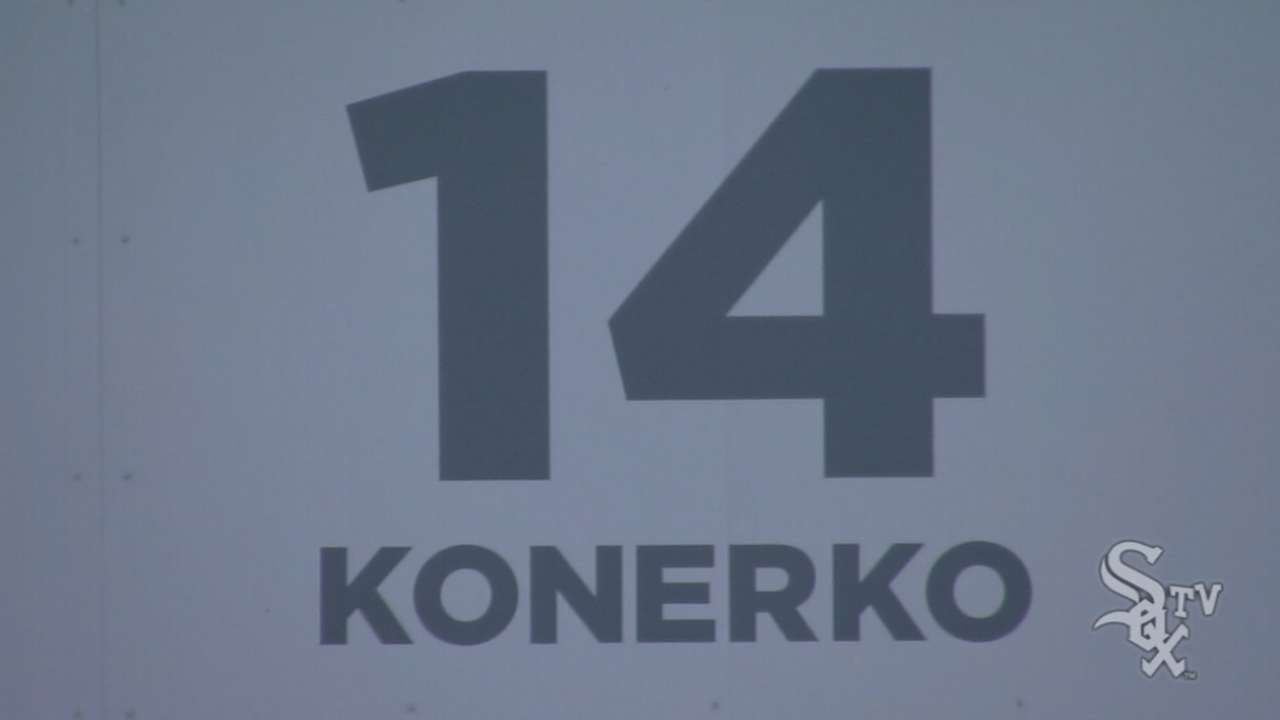 1. Can't spell Sale without K
The 26-year-old southpaw just might hold all the franchise pitching records by the time his run ends with the White Sox. In 2015, Sale settled for breaking the single-season club strikeout mark previously held by Ed Walsh. Sale struck out 274 over 208 2/3 innings, topping Walsh's 269 from 1908 when he fanned James McCann for the first out of the second inning in a home game on Oct. 2 against the Tigers.
Sale's top individual effort of the season came on Aug. 16 against the Cubs, when he struck out 15 and allowed one Dexter Fowler single over seven innings. From May 23-June 30, Sale recorded double-digit strikeouts in eight straight starts. He tied Pedro Martinez's Major League record for most consecutive double-digit strikeout starts, contributing to his fourth straight All-Star season.
"I'm not a big fan of being a critic on myself," said Sale after the season of his performance. "There's always room for improvement. I don't care who you are. You could have won the Cy Young this year and you still work to be better. And that's kind of the bottom line. That's where I stand."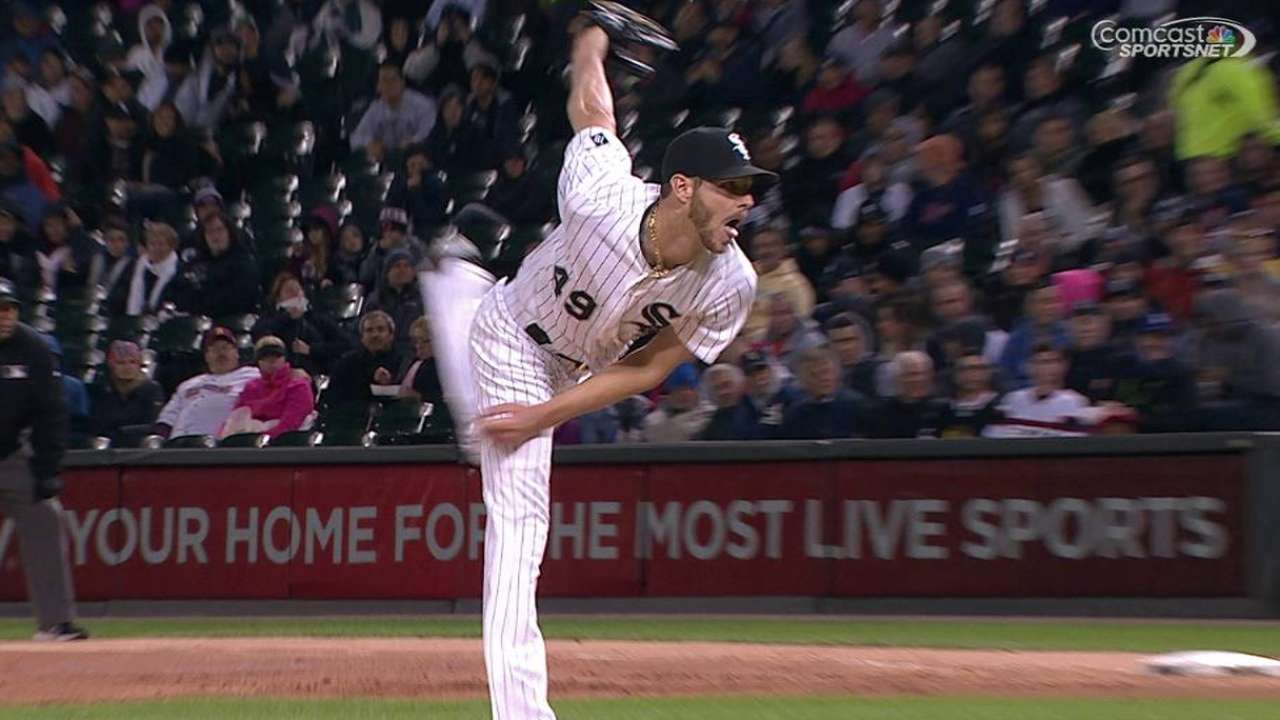 Bonus. World Series title turns 10
When a team features the lofty accomplishments of the 2005 World Series champions, it only stands to reason that a whole weekend full of festivities beginning on July 16 would be needed to celebrate the 10-year anniversary. Manager Ozzie Guillen, Konerko and World Series Most Valuable Player Jermaine Dye were there among many others, as fans relived and cherished the many historic moments from this special campaign.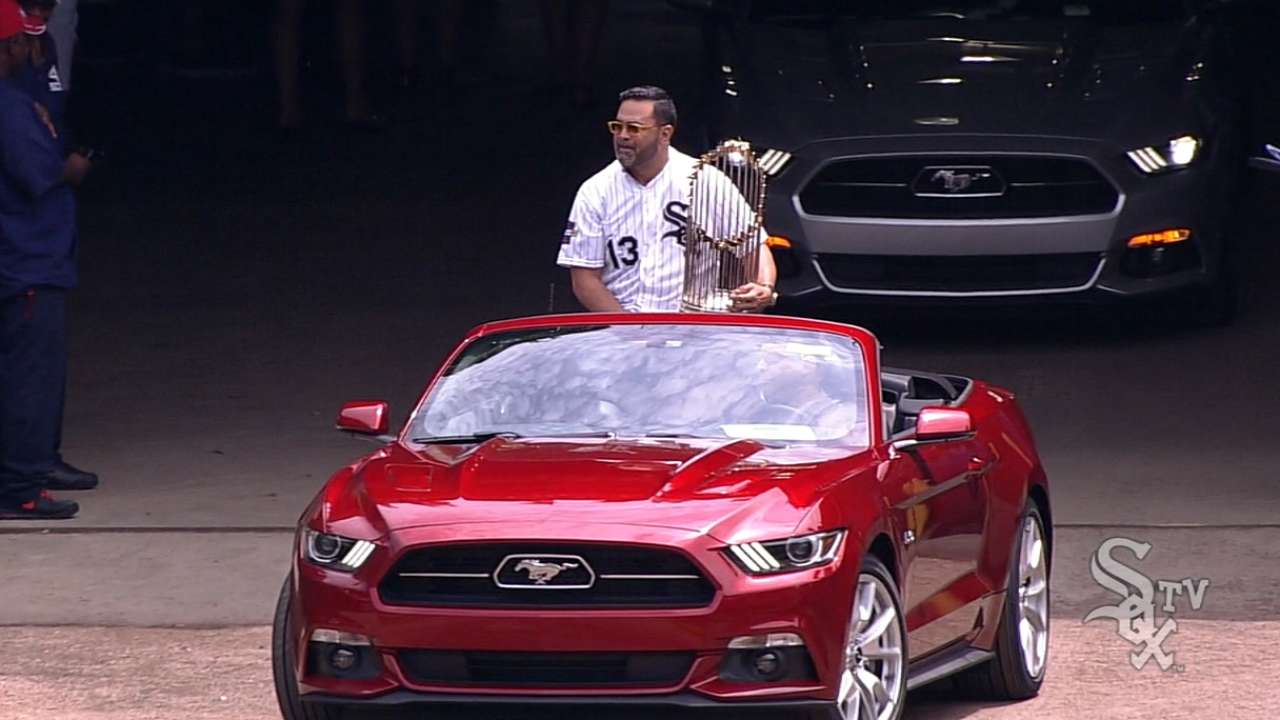 Scott Merkin is a reporter for MLB.com. Read his blog, Merk's Works, follow him on Twitter @scottmerkin, on Facebook and listen to his podcast. This story was not subject to the approval of Major League Baseball or its clubs.