Montas to make inaugural start Wednesday
Rookie excited to square off against Verlander, Tigers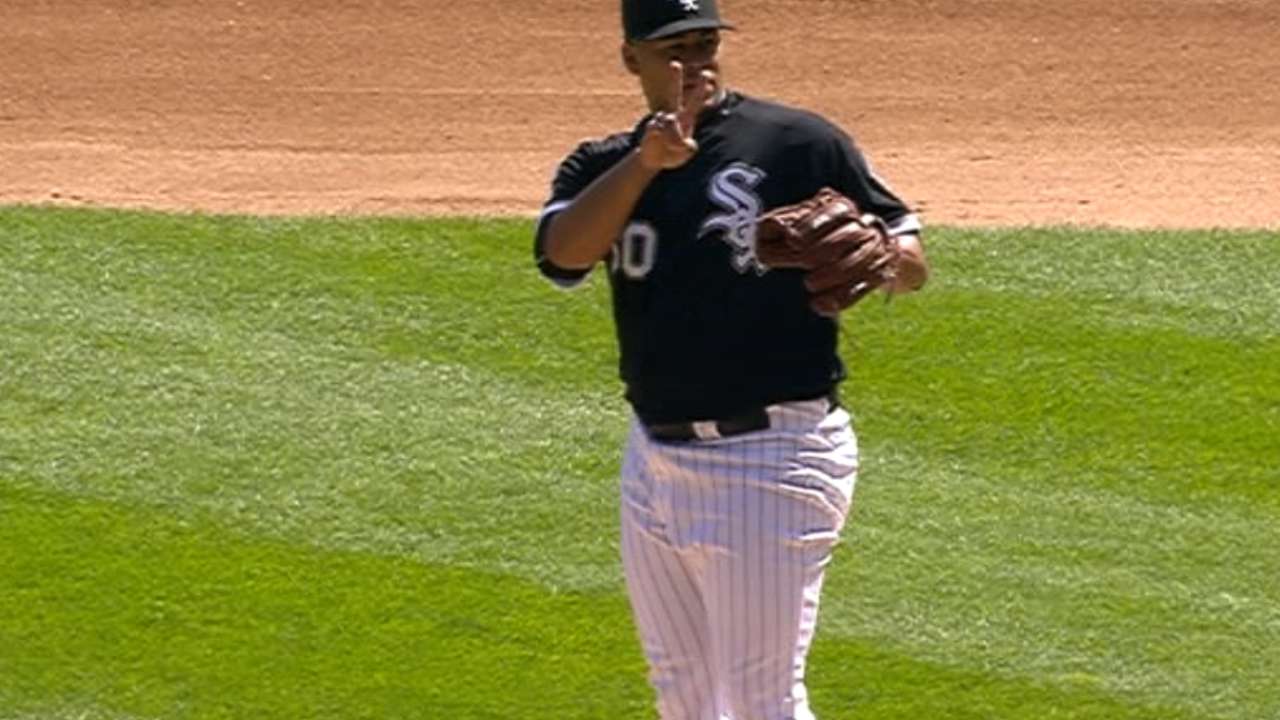 DETROIT -- The complete-game, one-hitter thrown by Jeff Samardzija in Game 1 of Monday's doubleheader sweep at Comerica Park and Erik Johnson's quality start in Game 2 made it possible for Frankie Montas' first big league start Wednesday afternoon in the White Sox series finale with the Tigers.
Montas will be opposed by Justin Verlander, the one-time American League Cy Young Award winner and Most Valuable Player. But he's looking forward to facing off with Miguel Cabrera and Victor Martinez.
"Those guys you're watching on the TV, especially the big-time guys, of course I want to face them," Montas said. "And I want to get them out."
This slight rotation adjustment was being considered by the White Sox, despite staff ace Chris Sale being available Wednesday on regular rest. They had to wait to see how deep into bullpen they needed to go Monday, but Dan Jennings, Nate Jones and David Robertson were the only relievers to pitch.
Using Montas gives the entire starting staff an extra day, and lines up Sale and Carlos Rodon for the first two games at Yankee Stadium. It also becomes a bullpen day for the White Sox, with Scott Carroll standing as a logical choice to follow Montas.
"More than likely, we are using some guys out of the 'pen," White Sox manager Robin Ventura said. "Again, the way yesterday went, Shark went the whole game. We didn't use that many guys in the second one. We are able to do that. We'll see again how the day goes. You feel comfortable you can cover that, even with him going three or four [innings]."
Although Montas made 23 starts over 23 Minor League appearances for Double-A Birmingham this season, the White Sox third-ranked prospect has been used exclusively out of the bullpen at the big league level. He would probably be limited to three or four innings if he starts a game.
"I don't feel nervous. I was a starter before and I've been in the bullpen here," Montas said. "I feel like it's the same, even though it's the big league level. I feel like I've got good stuff and it's going to work."
Montas has allowed one run over eight innings of relief for the White Sox, with 10 strikeouts and four walks. He is capable of touching 100 mph with his fastball, but one point of major focus for Montas is locating that fastball even if it comes in a bit slower.
"Right now, everything I'm trying to do is command my fastball, try to hit the spot and not try to be perfect, just try to hit the spot and throw strikes," Montas said. "I feel like the key is I'm not trying to do too much with my fastball. Just trying to throw strikes so I can get the out."
"There are some guys who throw it 98 or 99 but they get hit a lot," said Ventura of Montas' fastball. "There's some deception in the way he throws. And the offspeed stuff that he has, it will hide that."
As for long-term potential with Montas, Ventura sees the look of a starter.
"Every time he goes out there, it gets a little better," said Ventura of Montas. "There's more confidence with him going out there throwing different pitches.
"You'll find it more when he'll get two strikes on somebody or a full count, what he's going to be using. I know he has used a couple of offspeed pitches late in counts. That just shows confidence to have the control to do that."
Scott Merkin is a reporter for MLB.com. Read his blog, Merk's Works, follow him on Twitter @scottmerkin and listen to his podcast. This story was not subject to the approval of Major League Baseball or its clubs.