Innings total not an issue for Rodon
Rookie's biggest in-season improvement has been control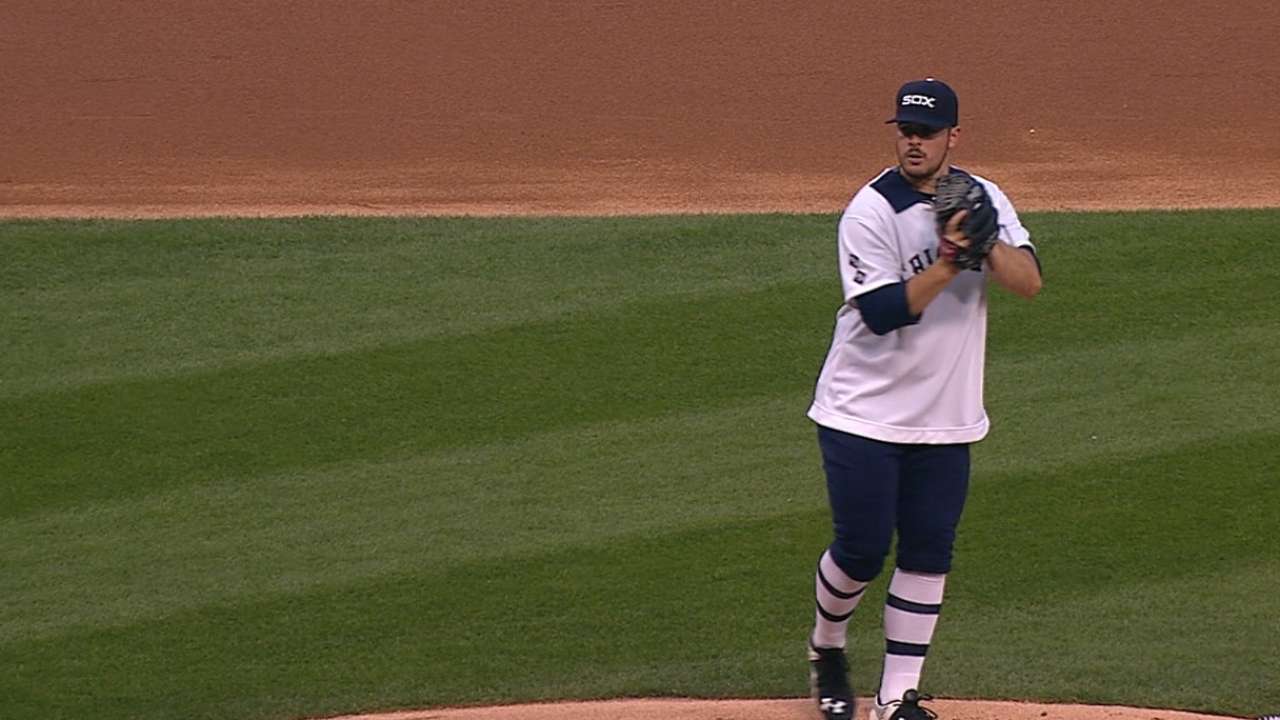 CHICAGO -- As Carlos Rodon works toward his next trip to the mound during the upcoming six-game White Sox road trip, the rookie southpaw sits at 112 2/3 innings over 19 starts and 22 appearances.
A common school of thought had the White Sox targeting somewhere around 150 innings for his first full season, which Rodon would surpass with seven more starts of just five innings each when factoring in his 10 innings with Triple-A Charlotte. Then again, the White Sox never gave an official innings limit and don't seem inclined to shut him down in September.
"What he's done, he's had some games where we've taken him out early, he's had some games where we've left him out there and he's been able to overcome some stuff," said White Sox manager Robin Ventura. "Innings-wise, he's good. I would like to see him keep going.
"As far as his first year and how he's getting through it, it's been great. His progression has been fine, too."
Rodon, 22, had command issues early in the season, but he has been much sharper as the season has progressed. Over his last four starts, with two each coming against the Angels and Mariners, Rodon has allowed five earned runs in 28 innings and has 29 strikeouts against 11 walks. Rodon has the look of a No. 3 pick from the 2014 Draft with his 119 strikeouts in those 112 2/3 innings.
"I think he was, I don't know if it's unsure of himself, but going out there and trying to locate," Ventura said. "He had games where I think he just kind of threw it to the side and was getting after it.
"Throwing strikes and getting ahead early, that was going to be a big thing for him. You see when he doesn't quite have that, it's not the same. Hitters react to it differently. Teams react to it differently. When he's throwing strikes early and doing the things that he did against Anaheim in here and then out at their place, very aggressive, locating and lots of carry on his fastball as well."
There might be a spot or two for Rodon to get extra rest between September starts, as the White Sox did with him earlier this season, and that spot might come next week in Minnesota with only Chris Sale officially announced for Tuesday and two TBAs to follow. Erik Johnson could get a callup when rosters expand on Tuesday and be put into the rotation for an immediate turn.
"We're not going to sit here and go over the highs and lows of every time he goes out there and does give up a run or a homer and think his career is over," Ventura said of Rodon. "He's a young guy, he continues to improve, and all of this is putting it in the bank for the future and him having something to rely on and revert back to that will make him better in the end."
Scott Merkin is a reporter for MLB.com. Read his blog, Merk's Works, follow him on Twitter @scottmerkin and listen to his podcast. This story was not subject to the approval of Major League Baseball or its clubs.