Sale sharp over 7, but bats fall silent in finale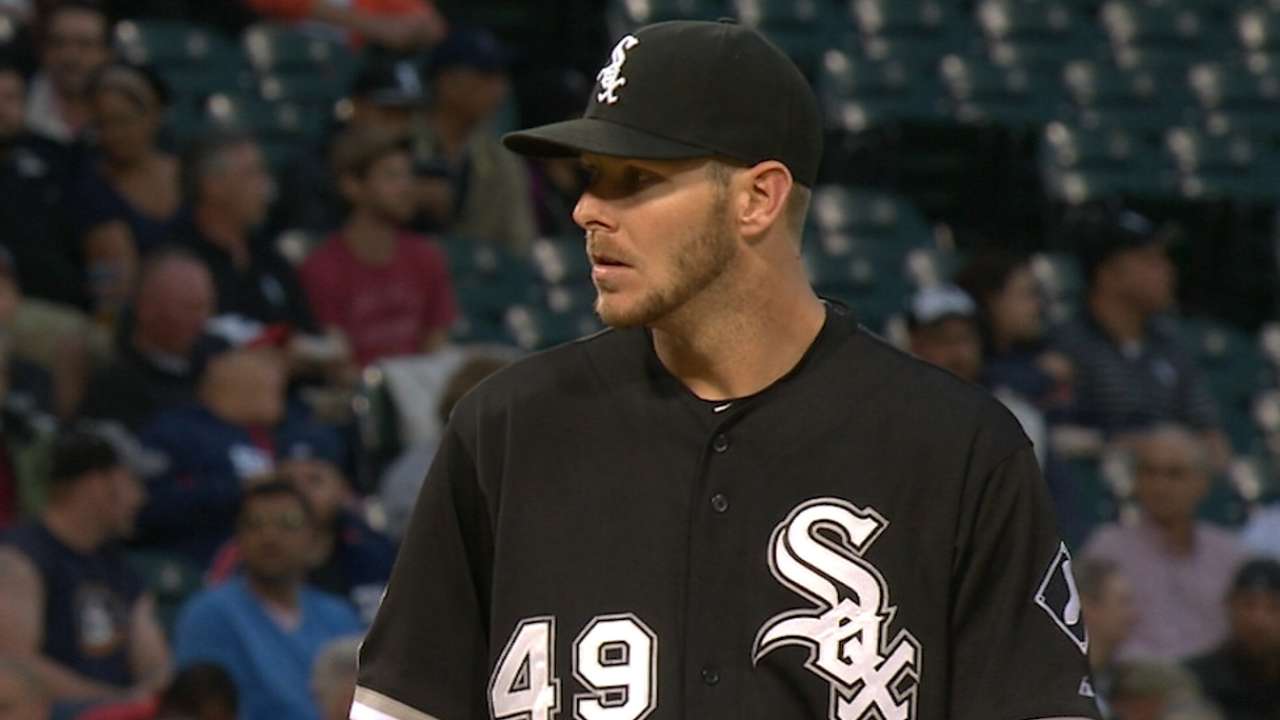 CHICAGO -- Rick Porcello, making his first start since July 29, threw seven shutout innings and Travis Shaw delivered the decisive two-run homer in the eighth to give the Red Sox a 3-0 victory Wednesday night at U.S. Cellular Field. The Red Sox claimed the road series -- after the White Sox had won three of four at Fenway -- with Shaw connecting off of reliever Nate Jones.
"It was a fastball in, I was actually looking in," said Shaw. "They've been pitching me in the whole series. I was looking for something in that I could drive. He left it kind of middle-in, and I was able to put a pretty good swing on it.
Last month, Porcello allowed six runs on 10 hits over two-plus innings in a loss to the White Sox at Fenway Park, his final start before making a trip to the disabled list with a right triceps strain. In his return, the right-hander struck out five, gave up five hits and didn't issue a walk.
Chris Sale finished with a no-decision for the White Sox, matching Porcello's seven scoreless innings. He fanned seven, giving him a new single-season high in strikeouts at 229. Sale needs 41 strikeouts to top Ed Walsh's single-season franchise mark of 269 set in 1908. He is 3-0 with a 1.59 ERA over his last four starts and has made 19 quality starts this season.
"Yeah, he can bob and weave with the best of them," said manager Robin Ventura. "He wasn't in his strikeout form tonight, but they were going after stuff early. I thought they did a great job of attacking early. I wouldn't say he was throwing strikes early in the count, he was getting behind. That got him in some jams, but he's got good enough stuff to get out of it."
• Sale sets career high with 227th strikeout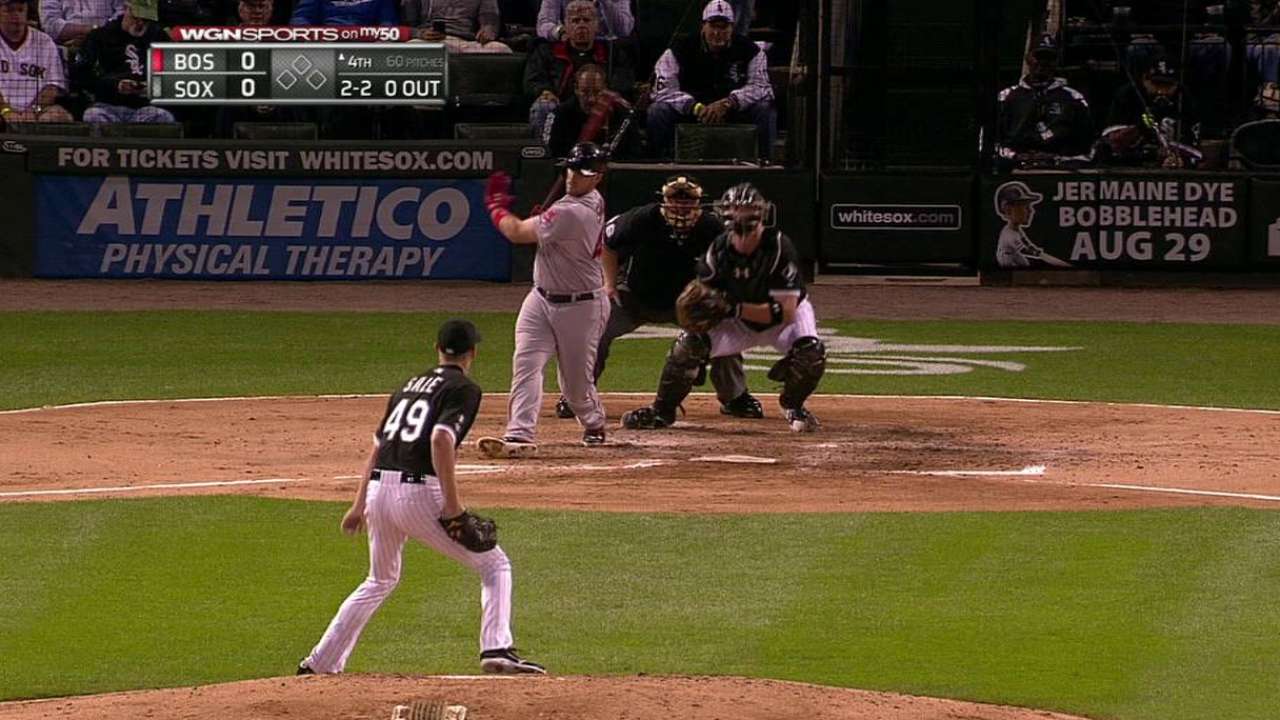 MOMENTS THAT MATTERED
Porcello dominant in return: Maybe a little time away was just what Porcello needed. The right-hander turned in his first scoreless outing since May 5, firing an efficient 94 pitches over seven innings.
"Throughout the game he just kept in control of his fastball the majority of the time," said White Sox third baseman Tyler Saladino. "And a guy throwing a sinker like that, you have to capitalize on the mistakes he makes, and he didn't make too many of them. It was a battle."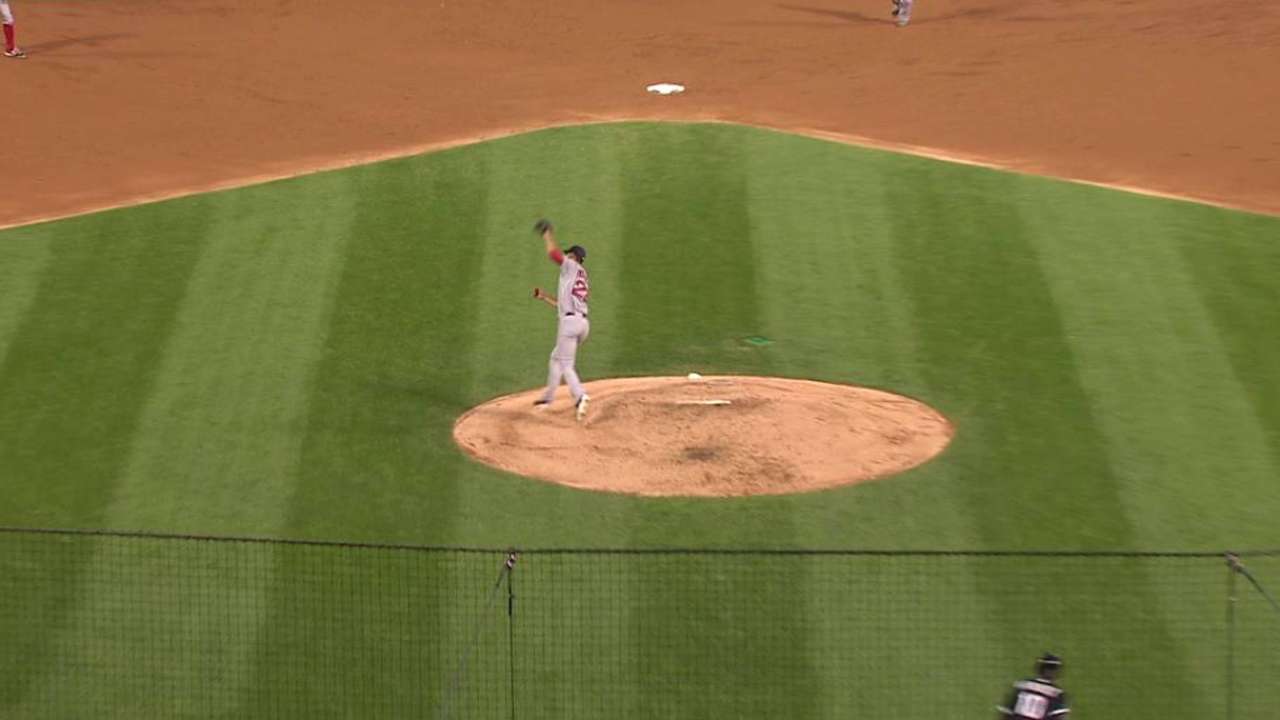 Not hitting on all cylinders: After Porcello limited the White Sox to one baserunner over four innings, Chicago put two on base in both the fifth and sixth innings. In the fifth, Adam LaRoche got to third with one out, but was stranded there when Tyler Flowers flied out to shallow right and second baseman Josh Rutledge made a phenomenal grab and flip to nail Saladino at first.
"I had a pretty clear view of it happening right in front of me and was just trying to beat the ball," said Saladino. "I was just hoping it was slow enough to get there and beat the play at first but it didn't happen."
In the sixth, Melky Cabrera and Jose Abreu were stranded at first and second, respectively, when Avisail Garcia struck out and LaRoche flied out.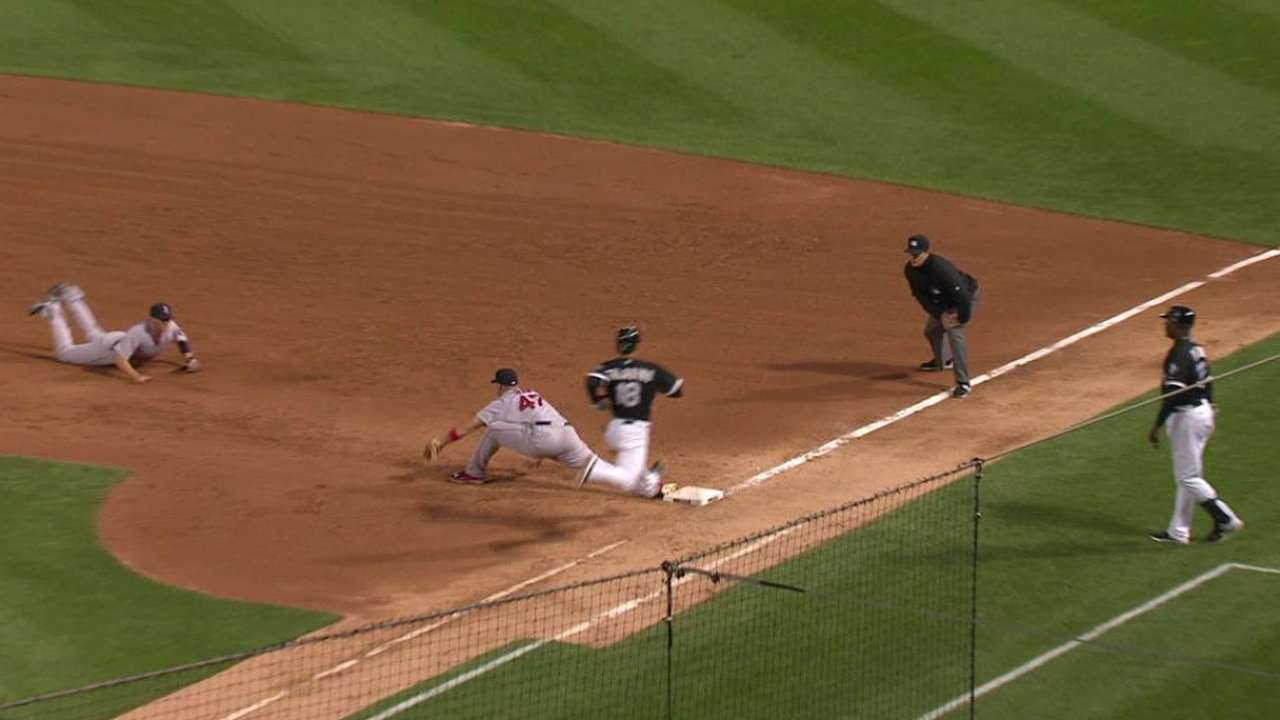 Shaw continues to make his case: While there's been a lot of focus the last couple days on Hanley Ramirez attempting to make the transition to first base, Shaw continues to show that he might be able to contribute for the Red Sox at that position going forward. The lefty's two-run shot down the line in right was his seventh homer in 93 at-bats this season. Shaw's blast had an exit velocity of 108 mph and traveled a projected 421 feet, according to Statcast™.
"I think I've done a decent job of it, trying to show them what I've got," said Shaw. "I feel like this doesn't surprise me really, so I'm just trying to continue what I'm doing. I always thought I could hit at this level, now I'm being able to show that a little bit, and I'm just trying to continue it."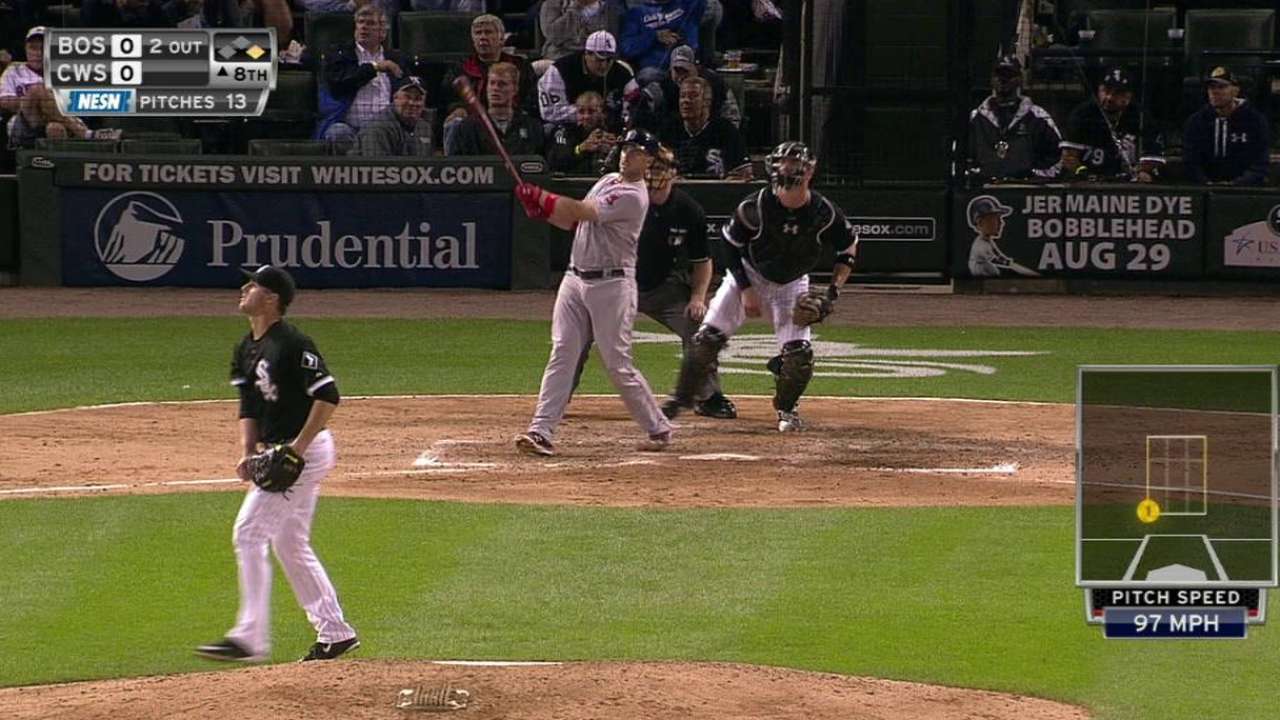 Jones is human: After making an incredible comeback from a microdiscectomy and Tommy John surgery that cost him the 2014 season, Jones had allowed just one hit and struck out 10 over his first 6 1/3 innings. His scoreless streak ended when Shaw beat the right-hander on a first-pitch 97 mph fastball.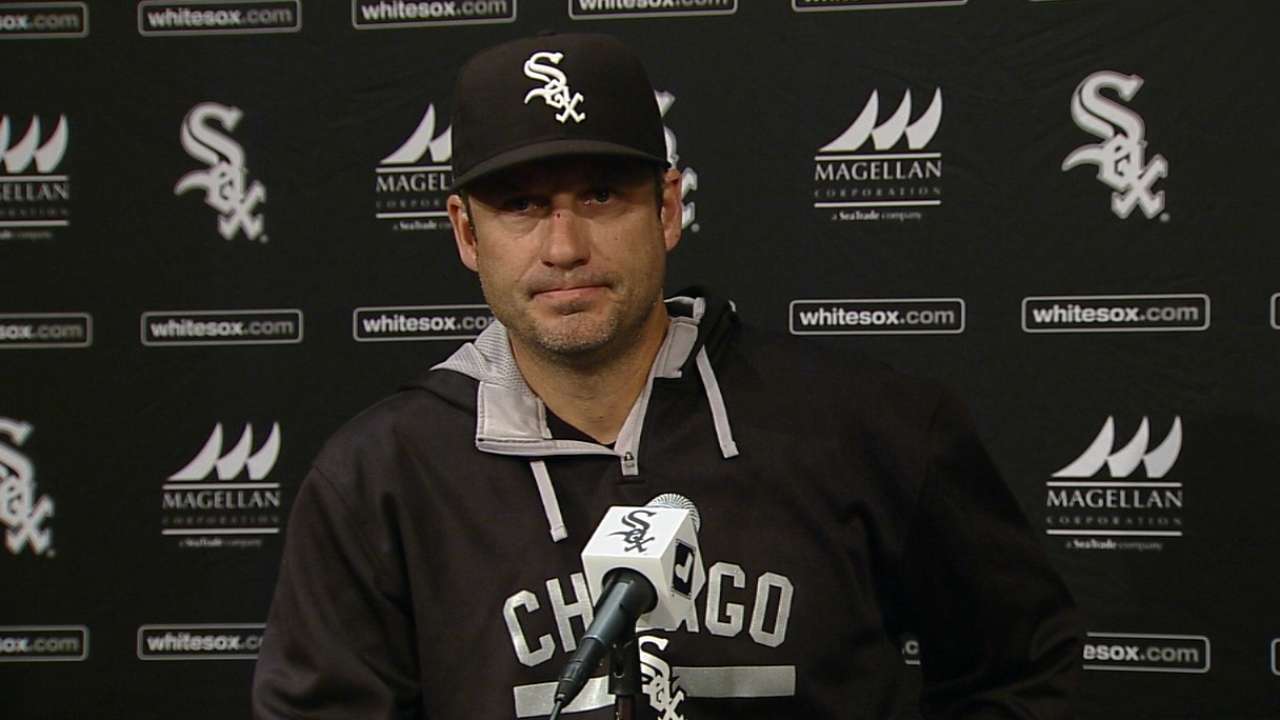 QUOTABLE
"Any time you have Sale out there and he's throwing up zeroes, you want to scratch something across to get something going. So, yeah, that becomes frustrating." -- Ventura
UPON FURTHER REVIEW
Brock Holt hit one up the middle in the top of the first, and shortstop Alexei Ramirez ranged to stop it and fired to first, getting the out on a bang-bang play. Red Sox interim manager Torey Lovullo challenged, but the call on the field was confirmed after a review of just over a minute.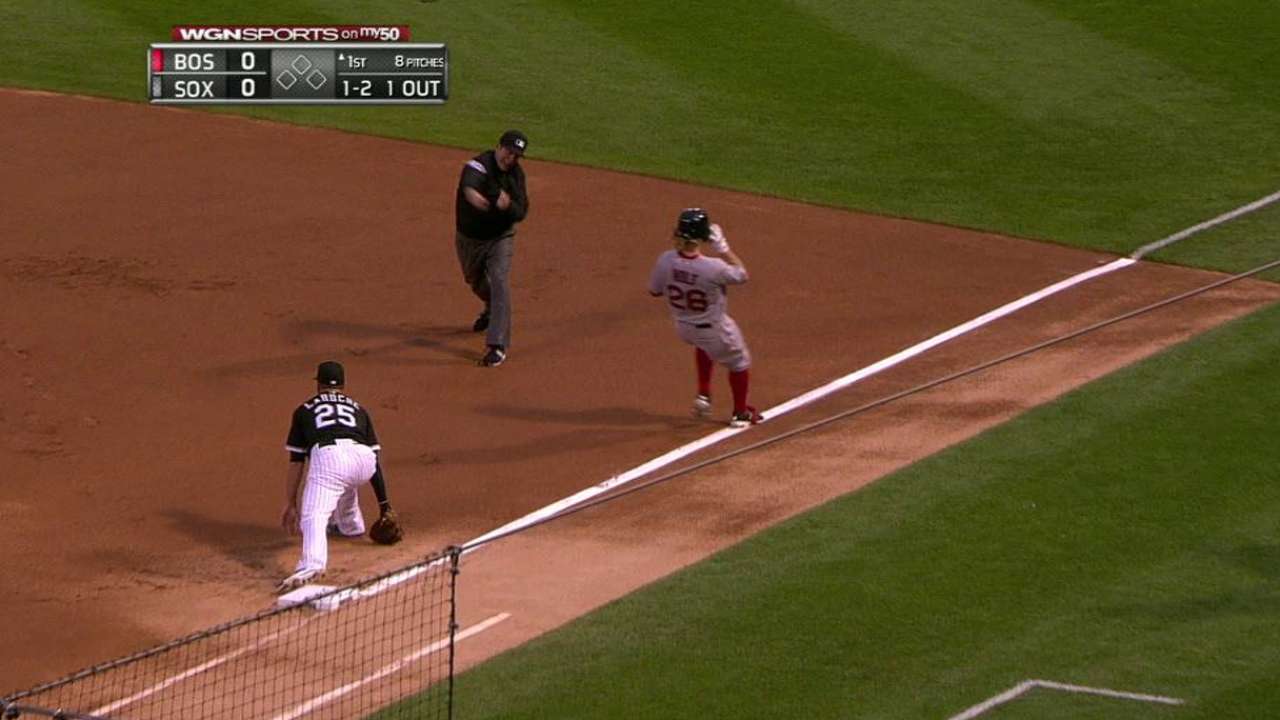 To open the second, Shaw hit a routine grounder to Saladino at third. Saladino's throw appeared to have pulled LaRoche off the first-base bag for an error. Ventura challenged the call, and video replay overturned the decision.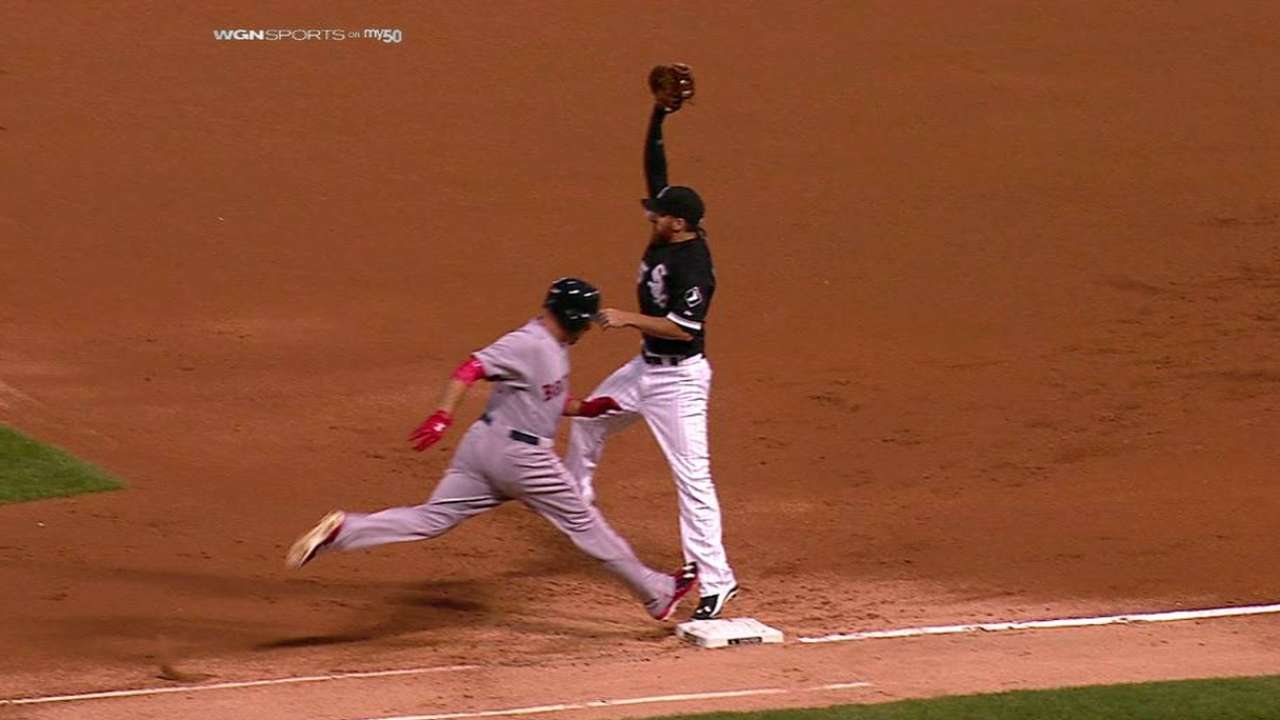 WHAT'S NEXT
Red Sox: Lefty Henry Owens, coming off the best start of his career, opens a three-game series at Citi Field against the Mets on Friday night. Last Friday against the Royals, Owens gave up four hits and one earned run over eight innings. In that start, Owens faced Johnny Cueto. This time, he has a similar challenge in righty Matt Harvey.
White Sox: Carlos Rodon gets the call to open a four-game set against the Mariners on Thursday night at U.S. Cellular Field. The rookie is 1-1 with a 1.23 ERA over his last three starts, which have come against the Angels (two) and the Mariners.
Watch every out-of-market regular season game live on MLB.TV.
Ian Browne and Scott Merkin are reporters for MLB.com. This story was not subject to the approval of Major League Baseball or its clubs.