Johnson has edge in second-base competition
White Sox GM Hahn keeping eye on waiver wire as decisions loom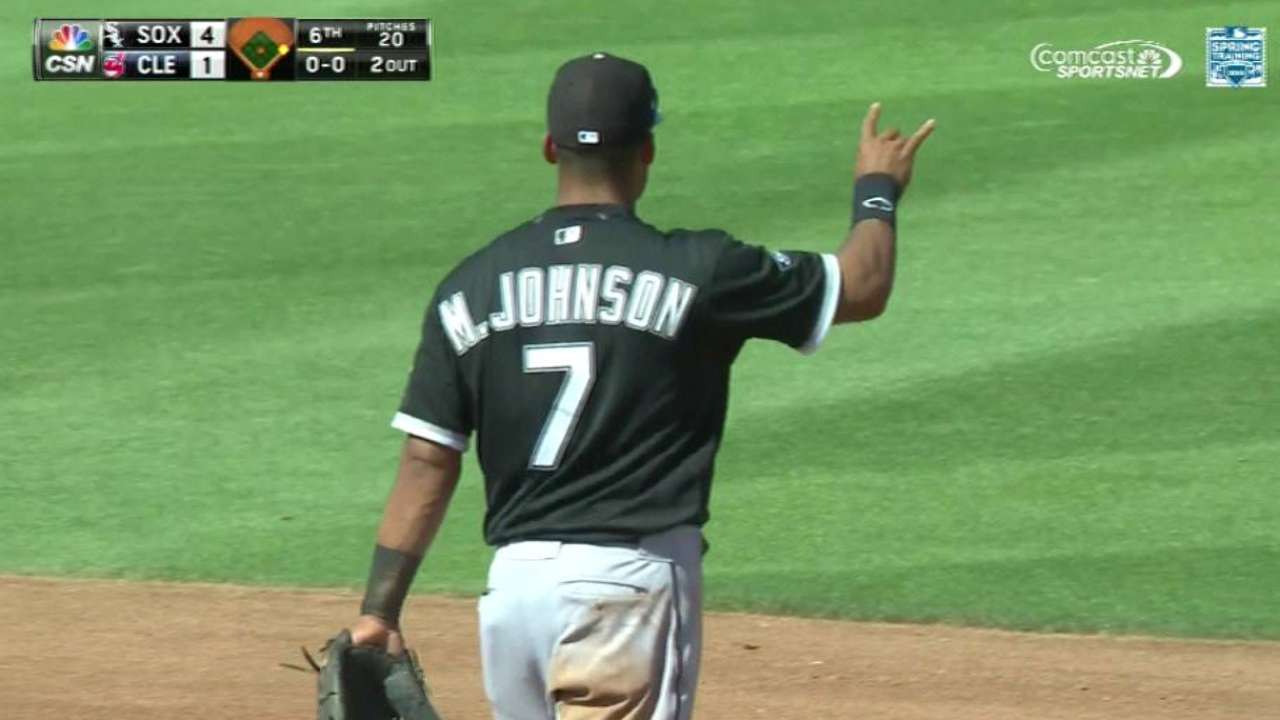 GOODYEAR, Ariz. -- Micah Johnson "appears to be the guy" at second base for the White Sox to start the 2015 season, per comments made by Robin Ventura on Sunday. But the White Sox manager added that nothing is set in stone with five Cactus League games remaining.
"He's done well enough to kind of be the leading guy," said Ventura of Johnson, who had two hits in Sunday's 4-1 victory over the Indians.
Johnson is known more as the explosive offensive component of the second-base candidates, while Carlos Sanchez is ahead defensively and has the ability to play around the infield. But third-base coach Joe McEwing, who works defensively with the infielders, likes the progress made in that area by Johnson during this Spring Training.
"Initially what we wanted to do was try to slow things down because everything Micah does, he does fast," McEwing said. "Everything in his game is fast. Just, defensively, try to slow him down and allow him to focus on his feet and his hands and everything working together.
"When he races, he gets in trouble. He'll get in between hops. That's going to be a constant reminder. We are going to go through stretches where he might not feel exactly where he needs to be, defensively. At the end of the day, I think he's in a real good spot where he's slowing everything down mechanically and getting off the ball great.
"They both bring a lot to the table that can help a ballclub win," said McEwing of Johnson and Sanchez. "When you can change a game offensively and defensively, it's pretty special. And we feel as if we're in a spot to where they can do that."
Worth noting
• Barring any unforeseen health issues, the White Sox roster seems to be close to final decisions as the last week arrives. J.B. Shuck has the last position-player slot all but locked down, while Geovany Soto has an edge over George Kottaras for the backup catcher's job.
There appear to be five locks in the bullpen (David Robertson, Zach Duke, Dan Jennings, Zach Putnam and Javy Guerra) and one strong possibility in Kyle Drabek. Jake Petricka's status remains unknown at the season's outset due to ongoing soreness in his right forearm, and a decision has to be made on seven or eight relievers for approximately one week until Chris Sale should return.
Nonetheless, White Sox general manager Rick Hahn is keeping an eye on the waiver wire.
"It's a pretty fluid time of year in terms of the back end of 40-man rosters as well as some guys not making clubs," Hahn said. "You still need to be diligent and try to find someone who potentially could fit for you, even if they don't fit somebody else -- whether it's a potential correction or improvement you feel you can make or sheer numbers game elsewhere.
"A year ago, at this time, we were able to get Javy Guerra off of waivers and then, in turn, actually run him through ourselves. Keep him in the organization and now he's going to play an important role, potentially, for us going forward. Even if you feel good in a certain area, if there's something else you like that's floating around, you take seriously the opportunity to improve yourself, especially from a depth standpoint."
Hahn believes that the White Sox roster basically will be set by the time the team leaves for Charlotte on Thursday night.
• Andy Wilkins was claimed off waivers by the Blue Jays Sunday, leaving the White Sox 40-man roster at 39.
• Scott Carroll will have two days off before pitching in relief Wednesday, after inducing seven ground balls in his three innings Sunday.
Scott Merkin is a reporter for MLB.com. Read his blog, Merk's Works, and follow him on Twitter @scottmerkin. This story was not subject to the approval of Major League Baseball or its clubs.