White Sox make waiver claim on righty Drabek
Jones placed on 60-day DL, scheduled to throw bullpen session Wednesday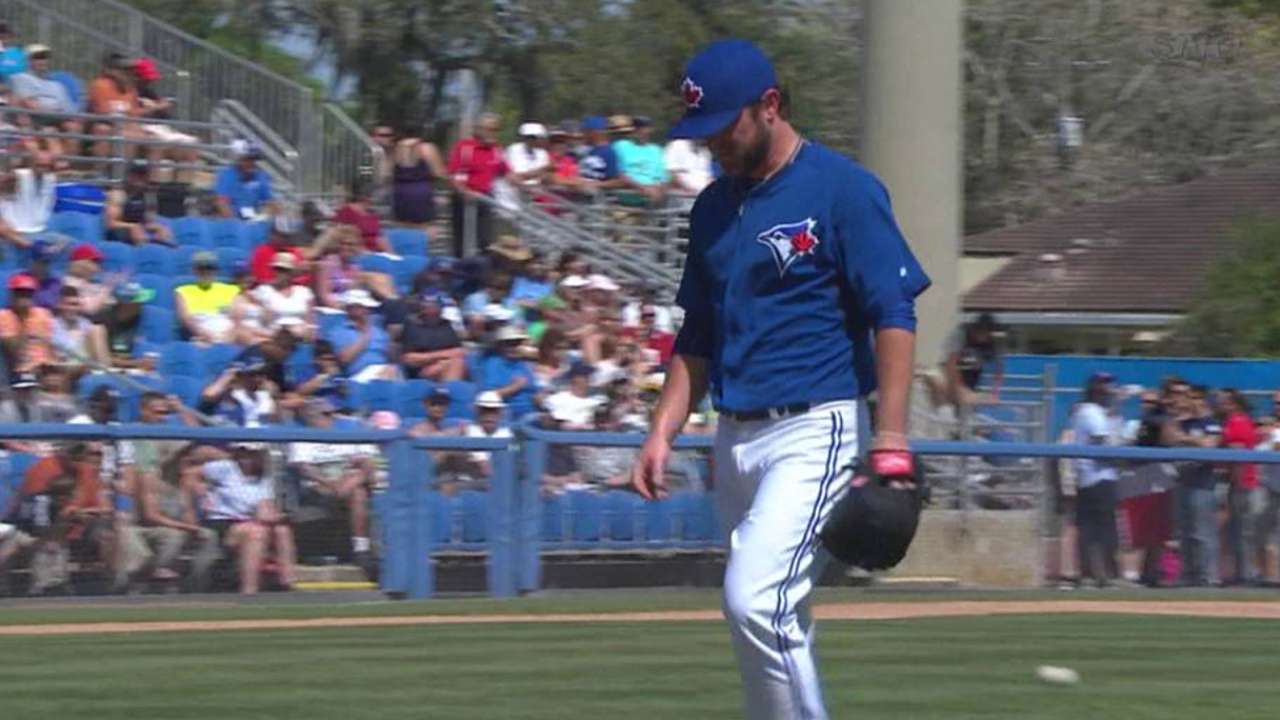 MESA, Ariz. -- The White Sox claimed right-handed pitcher Kyle Drabek off waivers from the Blue Jays on Friday and placed right-hander Nate Jones on the 60-day disabled list. The Jones move opened up a spot for Drabek, with the 40-man roster sitting once again at 40.
Drabek, 27, spent most of the 2014 season with Triple-A Buffalo in the Toronto organization, going 7-7 with a 4.18 ERA and 68 strikeouts over 32 appearances (13 starts). He also made two appearances with Toronto after being recalled on Aug. 16, working three scoreless innings.
Over 39 Major League games (30 starts), Drabek is 8-15 with a 5.27 ERA and 118 strikeouts over parts of five Major League seasons from 2010-14. The best season for the son of former White Sox hurler Doug Drabek came with Double-A New Hampshire in 2010, when he was named Eastern League Pitcher of the Year after going 14-9 with a 2.94 ERA and 132 strikeouts over 27 starts.
There's a chance the White Sox could need three spots on the 40-man roster if players such as Micah Johnson, Geovany Soto and/or Matt Albers and Carlos Rodon break camp with the team. With just one week remaining in Spring Training, it will be interesting to see the immediate fit for Drabek, who was traded from the Phillies to the Blue Jays as part of a December 2009 deal involving Roy Halladay.
• Jones still might be a ways off from helping the White Sox at the Major League level, but the hard-throwing right-hander certainly is getting quality rehab work done during Spring Training. Jones will throw off a mound on Wednesday during a bullpen session, which is a significant step, even if the catcher will be standing up during the session.
"You see him throwing long toss and things like that, and you are pretty excited about his health and where he's at," Ventura said of Jones, who underwent a microdiscectomy on May 5 last year and Tommy John surgery on July 29. "It would be a big boost for us to get somebody like him at some point this year. That's just good news for us that he's able to be where he's at and be as healthy and optimistic as he is."
"There is nobody on this side of the complex that can do what he's doing long toss, and I will venture to say on the other side of the complex," said White Sox pitching coach Don Cooper. "He's throwing the ball very, very well. His rehab is coming along well. We're getting in a lot of work as far as working on his direction and things like that through the long toss, and he's getting ready to transition to the mound."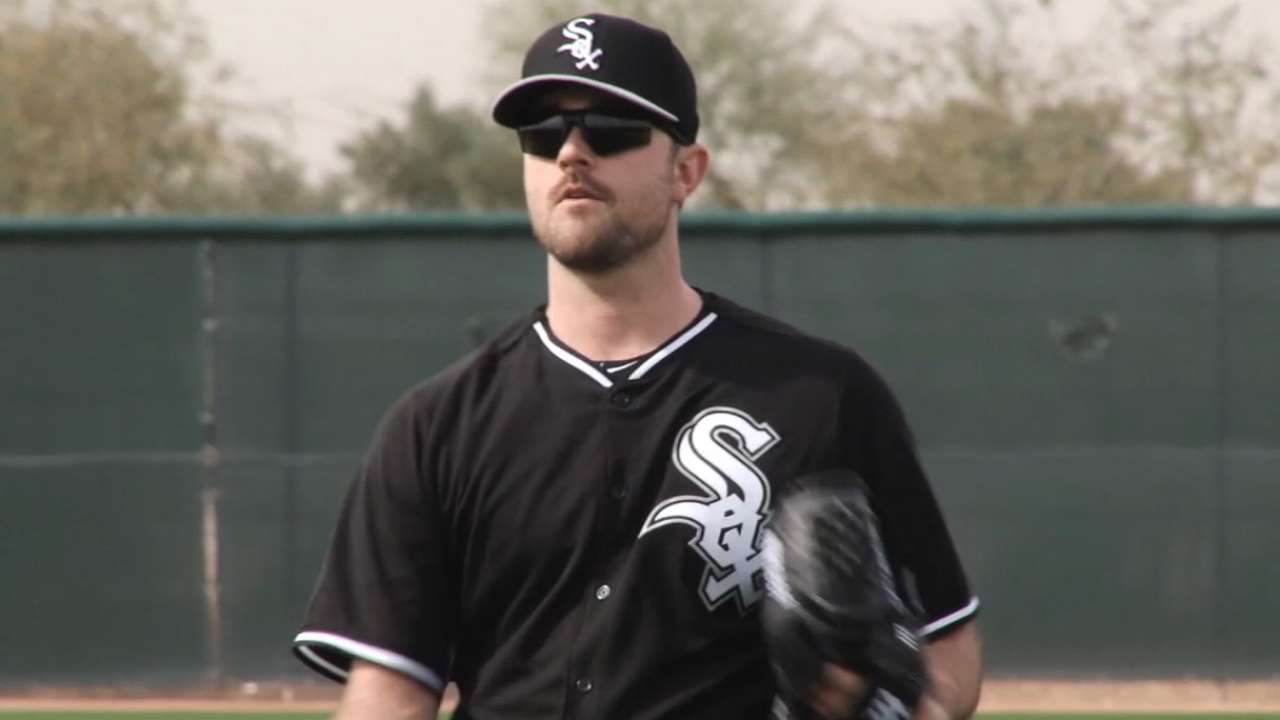 • David Robertson, who has been hampered by soreness near his right forearm, is back on the schedule to pitch Sunday against Cleveland in Goodyear. Jake Petricka had the same sort of soreness, and he will resume throwing on Saturday.
Petricka had a MRI on the problematic area, but he reported that everything came back clean.
"Just early on in spring, I maybe got after it a little too much," Petricka said. "Got a little excited and just put a little too much stress on the arm to start with. I was still able to throw but it just wasn't getting any better. So I decided to take it easy right now instead of become something in season.
"It's spring, so why push it? I've had little bouts of it before, and I always throw through it. This year, with the excitement of everything, I maybe kept on it too much in spring and it just didn't want to go away on its own. So we gave it a little extra rest."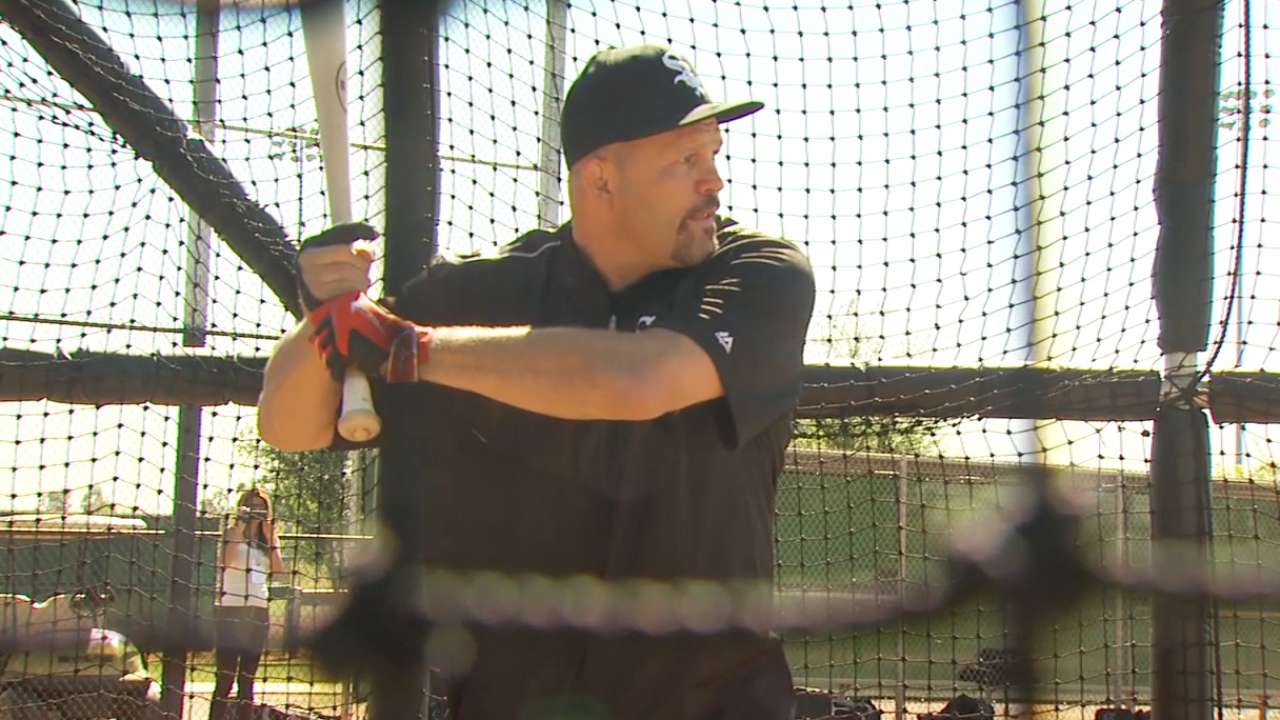 • Chuck Liddell, a legendary competitor in the UFC and friend of Brad Penny, took part in the White Sox Friday morning workout, including batting practice.
Scott Merkin is a reporter for MLB.com. Read his blog, Merk's Works, and follow him on Twitter @scottmerkin. This story was not subject to the approval of Major League Baseball or its clubs.